Sub-Boards
By far the smallest of the three islands, Grýnd is home to the Villtsung, the only humans to live by the Skjærgard archipelago. Because Grýnd is the only island that sits just above sea level, it is perfect for docking ships and setting sail for other parts of the world, as well as making it more prone to invasion. While there are large pine trees to be found on the island, providing the Villtsung with plenty of wood to build their settlements and their ships, as well as plenty of ore in the soil for the forging of weapons and armor. What it has in terms of natural resources, Grýnd lacks in tillable soil, meaning the only food comes from fishing in the seas, rivers and streams, by secretly hunting on the island of Mandrenke, or by heading out into the world to raid and pillage other countries. The capital settlement of Grýnd is a place called "Ragnvald's Fall", a large fortress made out of wood and stone, as well as the bones of giants, standing on top of a large flat slab of rock that lets it look across a good portion of the island. Aside from the port, the capital and the settlements, most of the island exists out of a huge swamp called Dagmar's Mire.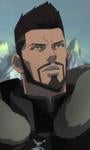 | Status | | Subject | Created By | Replies | Views | Last Post |
| --- | --- | --- | --- | --- | --- | --- |
Theme by
ElizaCodes
exclusively for Shattered Grimoires.