Sub-Boards
Deep inside of the basin, a large tree sits on a hill in the middle of the woodland, a river running right beside it. At the base of the tree sits the remains of an elven compound that hadn't been in use for hundreds of years. Forgotten in time, the Solarian Wolves repurposed this place for the sake of having their own base of operations within the forsaken region. From here, the members have a makeshift home, plan their activities and take care of matters best left behind closed doors.

In the deep stretches of the Basin, a grove of fantastical, mystical trees has appeared. Upon approach, everything seems to be bathed in an angelic, rainbow-colored light, giving an otherworldly feeling to this mystical place. Mana is condensed here, felt in the very air that one breathes. Overall, it appears eerily serene, like the calm before a brewing storm.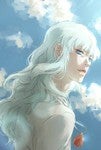 | Status | | Subject | Created By | Replies | Views | Last Post |
| --- | --- | --- | --- | --- | --- | --- |
Theme by
ElizaCodes
exclusively for Shattered Grimoires.